Bamboo 2 Pack (Black) Men's Crew Socks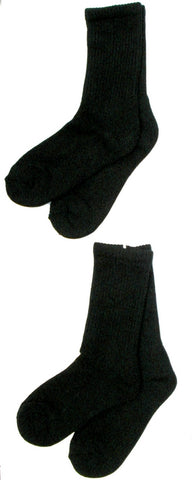 This two-pair pack of crew socks, made from primarily bamboo yarn, will fill the niche in your wardrobe for comfortable, durable everyday essential socks. Bamboo is a soft and porous fiber which makes these socks breathable and wick moisture away from your skin. Bamboo is naturally sustainable and uses virtually no pesticides or fertilizers and still grows at a rate of 36 inches per day. If reducing your carbon footprint is important to you will be happy to know that bamboo absorbs 35% more carbon dioxide than a typical oak tree.
 Lightly cushioned footbed for optimum comfort, ribbed at ankle, Black color. Perfect for everyday activities, lounging and working out. Content: 46
% cotton, 31%bamboo, 17% polyester, 3% spandex, 3%lycra. 
Fits approximate men's shoe sizes 7–12.