Giant Panda, Endangered Species Men's Crew Sock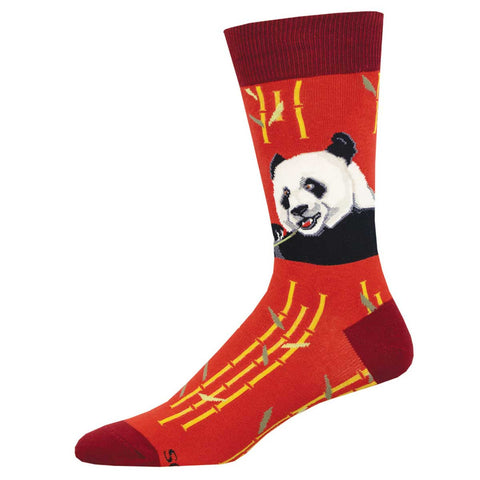 Ever wonder why Giant Pandas are black and white?  Turns out that those distinct black-and-white graphic Panda markings have two functions: camouflage and communication. The 2017 Study conducted by scientists from the University of California, Davis, and California State University, Long Beach, found that the white parts – help the Giant Panda hide in snowy habitats. Well, that makes sense... but what about the bold back parts? They help it hide in the shade. Additionally, they concluded that the distinct markings of the ears and face are used to communicate...also to make us swoon over those big black eyes and roly-poly demeanor! No danger of blending in when wearing these striking Giant Panda socks, the gentle giants are shown gnawing on their favorite bamboo snack against a crimson background. 
10% of the proceeds from the Endangered Species collection will benefit organizations that prioritize wildlife conservation.
Content: 66% Nylon, 32% Cotton, 2% Lycra. Fits men's shoe sizes 7-12.5, Women's approximate shoe size 8.5-14.