Cottagecore Kitty Cat Women's Bamboo Crew Socks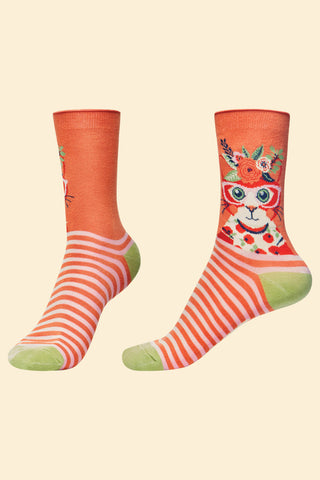 Featuring a sweet, stylish kitty in glasses and a floral crown design, these socks will add plenty of fun and humor to your outfits. Perfect for stepping out on an adventure, reading, canning, knitting...all sorts of things! Made with bamboo, these extra soft women's socks will keep your feet stylish and comfortable. Kitty with pink spectacles and flowers, she's even wearing a fun graphic T-shirt! Peachy-Pink background at ankle and pink and ivory striped foot. Green accent at toe, heel and cuff. Bamboo socks are temperature regulating , they're hypoallergenic, they help wick moisture away from your skin, they're anti-bacterial - for all those reasons and more they're good for your skin. Did we mention how silky and soft they are? 
 65% bamboo, 15% cotton, 10% nylon, 10% spandex
Fits approximate women's shoe sizes 4–10, Men's approximate shoe size 3-8.