Ewenique Sheep (Light Purple) Women's Bamboo Crew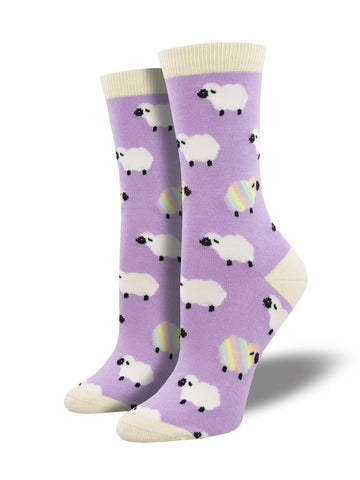 Move over Black Sheep of the family! Here comes the Rainbow Sheep of the Family! Why blend in when you were born to stand out? We love the pattern of fluffy, white sheep on these cute animal socks, but we really love those rainbow-colored beauties scattered throughout! Go ahead and stand out from the crowd in a colorful way.   Eco-friendly bamboo is certified organic by OCIA and tested by OEK-TEX to be free of harmful chemicals. Bamboo socks are breathable, anti-bacterial and anti-fungal so your feet stay comfortable and healthy. Bamboo rayon is soft, luxurious, breathable and antimicrobial. Fits women's shoe size 5-10.5, 
fits men's approximate shoe size 3-8.
Content: 78% rayon from bamboo, 20% nylon, 2% spandex.