Honey In The Bank , Bees (Brown) Bamboo Men's Crew Socks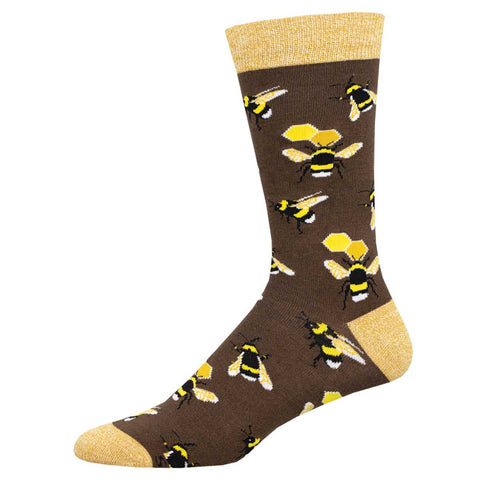 The humble bumblebee makes a pretty important impact on the world: It works tirelessly to support its family, making the world more beautiful and a bit sweeter in the process. Sound like anyone you know? These sweet bee socks are made from soft bamboo fiber and covered with golden honeycombs and bumblebees. These bamboo socks feature a seamless toe for ultimate comfort. This means this style has a minimal, "barely there" seam designed to not irritate the toes. Made from antimicrobial, moisture-wicking fiber, in these ultra comfortable Bamboo socks so in addition to looking good, they feel good, too and they are certified organic by OCIA and tested by OEK-TEX to be free of harmful chemicals.
Content: 64% rayon from bamboo, 34% nylon, 2% spandex. Fits approximate men's shoe sizes 7–12.5.