I Dig Mushrooms Unisex Crew Socks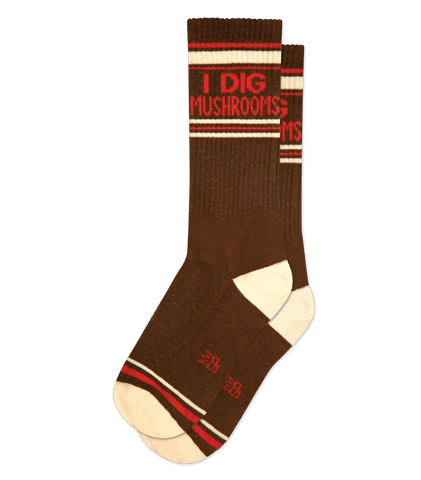 WE DIG MUSHROOMS. Whether you love the kind you buy at the grocery store, the kind you forage for in the woods, the psychedelic kind, or if you just love all things mushrooms, these are made just for you! If you like crimini, shittake or portabella... these socks are for you. If you've ever stared at a houseplant for several hours trying to figure out what year it is... these socks are definitely for you 🍄.
 "I Dig Mushrooms" socks are made of soft combed cotton with a cushioned foot that make you feel like you're walkin' on a cloud.  Earth Brown background with ivory and  russet red details at toe, heel and cuff for a slightly retro color palette. These wide ribbed athletic style socks reach to mid-calf on most folks and fit a women's size 6 US to men's size 15, 🇺🇸Made in USA 🇺🇸  Content: 61% cotton, 36% polyester, 3% spandex.