Leaping Lily Pads, And Frogs! (Blue) Women's Bamboo Crew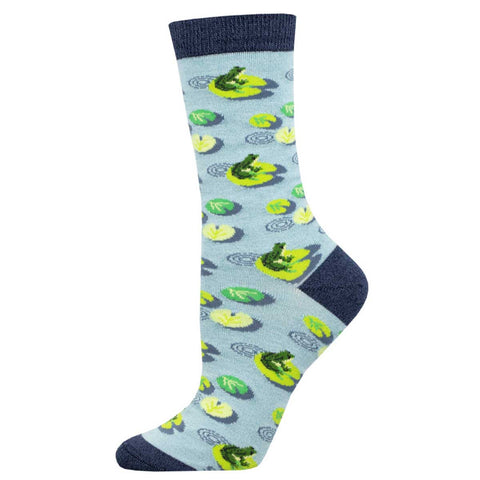 The quiet beauty of a pond or lake is instantly enhanced by a water lily's rounded leaves floating placidly on the surface. The Water Lily is a star in the Art World.
The impressionist painter Claude Monet often used water lilies as a subject. In fact, he painted more than 250 pieces that featured this aquatic plant. These sweet socks feature green frogs relaxing on lily pads, taking in the beauty of the day. Soft, luxurious bamboo rayon is breathable and antimicrobial so in addition to looking good, they feel great. Certified organic by OCIA and tested by OEK-TEX to be free of harmful chemicals. Bamboo socks are also anti-fungal so your feet stay comfortable and healthy. This pair of bamboo socks features a seamless toe for ultimate comfort. This means this style has a minimal, "barely there" seam designed to not irritate the toes. Fits women's shoe size 5-10.5. Content: 54% rayon from bamboo, 44% nylon, 2% spandex.