Luck Be A Lady Bug Women's Knee Highs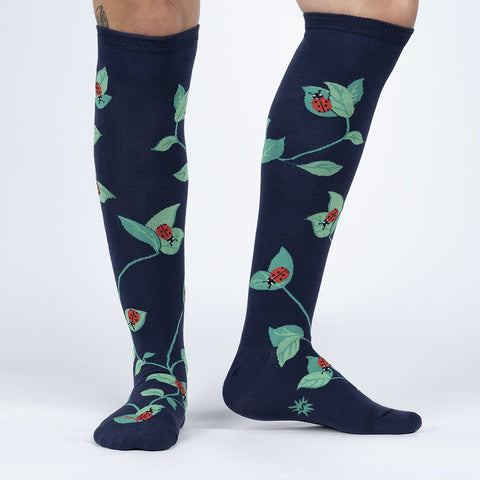 Whether you believe ladybugs are an omen of good luck or you appreciate them for their pest-eating benefits, we can all agree that these red and black cuties are pretty universally loved. Maybe these Luck be a Lady Bug Knee Socks will be your good luck charm? Only one way to find out!  I mean really...who doesn't need a little luck on their feet and in life? The luckiest of red and black ladybugs on black socks with leafy greens. Positive thinking, positive thinking.... Ladybug socks will get you compliments and when you feel good about yourself, good luck will come. Fun socks for folks who love ladybugs and/or who need a little luck in their life.
The 
threads are certified by OEKO-TEX® Standard 100, which means harmful chemicals are left out to keep your skin safe and happy.
Content: 57% cotton, 40% polyester, 3% spandex. Approximately fits women's shoe size 5-10 and men's shoe size 3.5-8.5.