Spring Awakening, Deer Women's Crew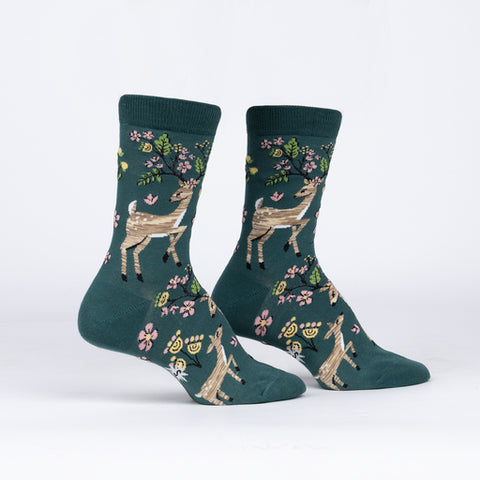 Spring is one of our favorite times of year! The time when everything blooms, a season of new beginnings. The sun shines more brightly and the birdsongs grow louder and more boisterous. The days are getting longer, the frost is melting away and flowers are beginning to emerge from the ground. That's why we love these pretty socks, which feature a lovely pattern of blooming flowers and deer, along with a deer whose antlers are made up of bountiful, blooming flowers and plants!  The deer that gambol into this forest of flowers on these teal socks have antlers in full bloom, signaling the start of some fantastical spring! Each deer is knit from unique space dyed yarn, adding an element of texture to show off the beauty in it's spring coat and color to the springtime scene.
The fibers in these socks are certified by OEKO-TEX® Standard 100, which means no harmful chemicals, keeping your skin safe and happy. Fits women's shoe size 5-10, men's shoe size 3.5-8.5. Content: 52% Cotton, 46%, Polyester, 2% spandex.