Star Wars Vader READ Men's Crew Socks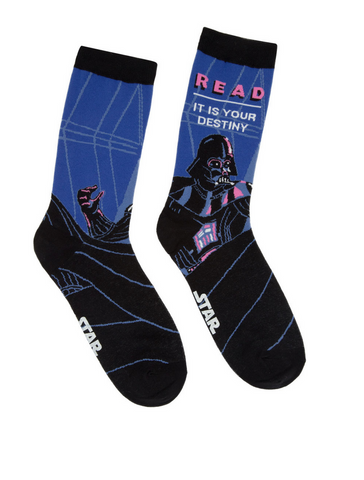 "READ It is Your Destiny"
He's come a long way since his early days on Tatooine, that's for sure! He had the potential to become one of the most powerful Jedi ever, and was believed by some to be the prophesied Chosen One who would bring balance to the Force. But Darth Vader was seduced by the dark side of the Force, became a Sith Lord, and led the Empire's eradication of the Jedi Order. He remained in service of the Emperor for decades, enforcing his Master's will and seeking to crush the fledgling Rebel Alliance. But there was still good in him… Use the Force for good, every purchase of these Vader socks helps to fund literacy programs and book donations to communities in need. Content: 75% cotton, 20% polyester, 5% spandex. Fits approximate men's shoe sizes 7–13.