Tree Frog (Navy) Women's Crew Socks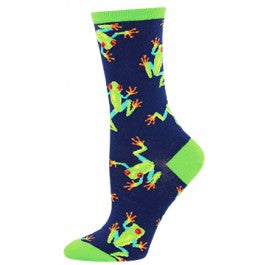 Jump into our tree frog socks and show your love for these jungle inhabitants. The red-eyed tree frog starts out as a drab brown froglet, after changing from a tadpole. Their bright colors develop in adulthood and help to startle predators. Wear these rainforest socks and brighten up the scene.
 70% Cotton, 27% Nylon, 3% Lycra.  Fits women's approximate shoe size 5-10.