Wicked Voodoo Bamboo Men's Crew Socks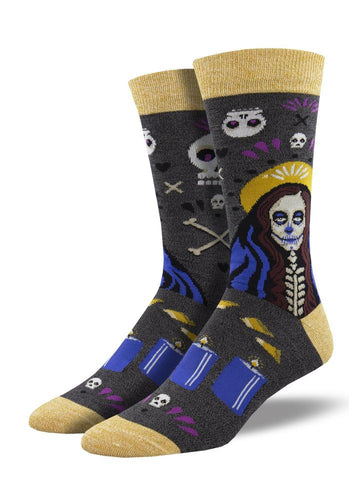 Voodoo is a sometimes misunderstood spiritual practice dating back thousands of years and uniting many from the African diaspora. Synonymous with New Orleans, Voodoo first came to Louisiana with enslaved West Africans, who merged their religious rituals and practices with those of the local Catholic population. New Orleans Voodoo is also known as Voodoo-Catholicism. It is a religion connected to nature, spirits and ancestors. The core belief of New Orleans Voodoo is that one God does not interfere in daily lives, but that spirits do. Connection with these spirits can be obtained through various rituals such as dance, music and chanting. These Wicked Voodoo socks are the perfect blend of old-school style and a little mysterious, looking right at home in a spooky Bayou atmosphere as well as everyday adventures. Decorated skulls, skeleton figure, candles and bones adorn these charcoal colored, bamboo socks with golden, violet, indigo and white accents. Bamboo socks are breathable, anti-bacterial and anti-fungal so your feet stay comfortable and healthy. Bamboo rayon is soft, luxurious, breathable and antimicrobial and they are certified organic by OCIA and tested by OEK-TEX to be free of harmful chemicals.
 Content: 62% rayon from bamboo, 36% nylon, 2% spandex. Fits approximate men's shoe sizes 7–12.5.