Bike Chain 1/4 Ankle Socks L/XL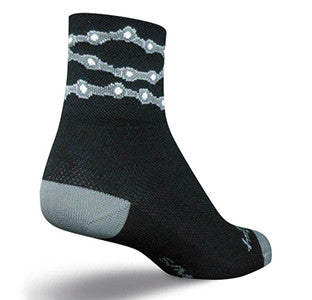 For your favorite bike fanatic! Nothing pairs with feet better than a Bike Chain. They were literally designed to give your feet power, just like these classic black performance socks with bike chain graphic at ankle. All the elements working together to take you places, seamlessly working as one.
These Ultra comfy Ankle socks have mesh upper for ultimate airflow, classic double-over cuff - never falls down, double-stitched nylon heel & toe for durability and longevity, Stretch-to-Fit sizing system for a PERFECT FIT on a wide-range of foot sizes, ultra-wicking acrylic base with superior softness and stretch to eliminate hot spots and blisters. The Sock Guy team are avid cyclists, runners, hikers and weekend warriors who have experience as expert level racers, sport enthusiasts, beer aficionados and industry professionals. Made in the USA.
L/XL fits men's 9–13/women's 10–14. 75% Micro Denier Acrylic, 15% nylon, 10% spandex.