Stacked Bikes (Black) Wool Crew Socks L/XL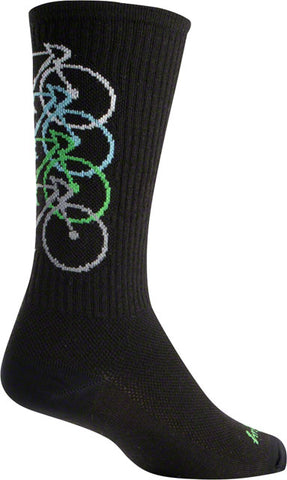 Oh, what's one more bike? Throw it in the stack!
If you're a Bike Guy (or Gal), you gotta meet Sock Guy! Your feet will be much much happier. 
Sock Guy Wool Socks are made from TurboWOOL – a superior blend of 50% Merino WOOL and 50% polypropylene. This blend is 5 times the strength and durability of Merino wool alone. Year-round performance: warmer in winter; cooler in summer. Shrink-resistant and itch-free, Sockguy wool socks keep your feet drier and provide excellent insulation in all weather conditions. These socks also feature an "Easy-Fit" cuff and "Stretch-to-Fit" sizing system for maximum fit and performance. Sockguy wool socks out-wick and evaporate moisture better than any other wool sock on the market today. The Sock Guy team are avid cyclists, runners, hikers and weekend warriors who have experience as expert level racers, sport enthusiasts, beer aficionados and industry professionals. Made in the USA.
Content: 75% Turbowool (50% Merino wool, 50% polypropylene), 15% nylon, 10% spandex. L/XL-Fits men's shoe sizes 9-13.