I'm A Delicate F*cking Flower Women's Crew Socks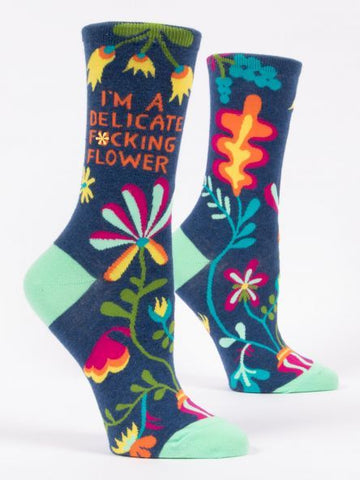 Damn straight, and don't you forget it. Gently nestled among a garden of blooms, the well-rooted message of these dainty-yet-a-bit-sweary, "I'm A Delicate Fucking Flower" Women's Crew Socks will allow you to navigate any tricky situation with poise, grace and confidence (you say assertiveness like it's a bad thing)!?! You're beautiful and colorful just like a  precious flower, but as these socks warn, folks better watch out 'cause sometimes those pretty flowers also have prickly thorns! Decorated with equally colorful language, our I'm A Delicate F*cking Flower feature a riotous array of colorful flowers against denim blue background with "I'm A Delicate Fucking Flower" on one side in orange, mint green accent a toe and heel.
Blue Q donates 1% of the sales of these socks to Doctors Without Borders. Fits women's shoe size 5-10. 53% nylon, 45% cotton, 2% spandex.