Trashy Love, Raccoon + Possum (Blue) Women's Crew Socks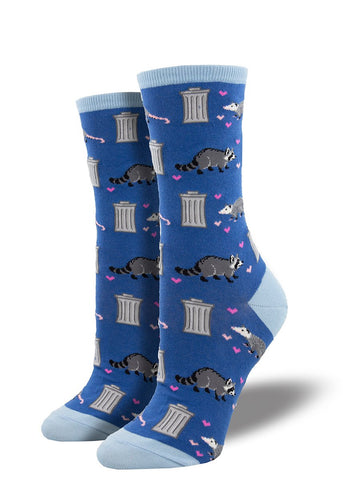 It happened one night. Their eyes met as they approached a particularly stinky and delicious smelling trash bin. Hopefully these star-crossed lovers of trash and grubs can make a go of it. Find someone that looks at you the way a raccoon looks at trash, ready to dive in even when we might be a little smelly and remember, what happens in the back yard, stays in the back yard. These funny socks with raccoons and opossums meeting up 'round the trash bins show two of our favorite critters with sweet pink hearts on a blue background. Slate blue accent at toe, heel and cuff. 
Content: 48% Cotton, 51% Nylon, 1% Spandex. Fits approximate women's shoe sizes 5–10.5, fits men's approximate shoe size 3-8.