Alpaca Bed (Purple) Ankle Socks S/M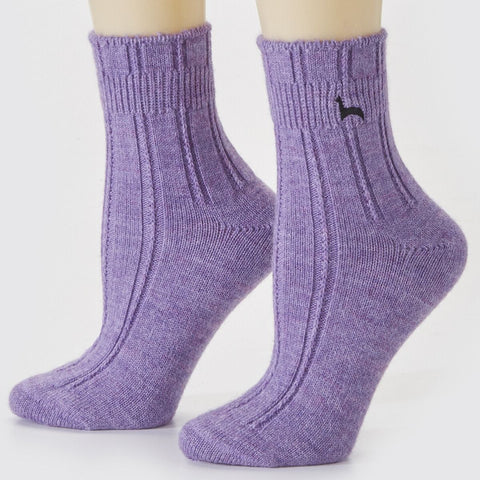 Luxury for your feet, super soft and wearable anytime - even to bed! These awesome Bed Socks are ankle-length or micro-crew length (shorter than a crew sock) and feature a ribbon knit and contrasting embroidered alpaca logo. A favorite of The Sock Shack Gals, most chilly days, you'll find at least one of the crew members wearing their Alpaca Bed socks! Alpaca fiber is lighter and warmer than wool. It has a luxuriously soft feel with a silky sheen and is hypoallergenic and comfortable to wear. The alpaca fibers in these bed socks have been imbued with aloe vera and jojoba oil which are soothing and anti-microbial.
70% Baby Alpaca, 25% Nylon, 5% Spandex. Machine washable, we recommend turning inside out for washing. 
S/M Fits Women's Shoe Size 5-9  Men's Shoe Size 3.5-7.5