Best Dad Ever Men's Crew Socks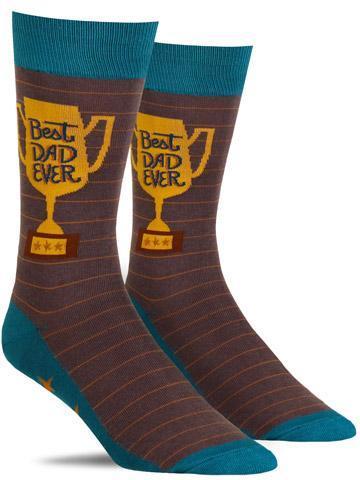 Every DAD is the best dad. However, we don't always tell him enough. 
Sometimes the simplest message is the best, and these fun and colorful socks get right to the point. Whether for his birthday, Christmas, Father's Day, for fun or even just because, let  dad know how much you care. Give him a pair of these BEST DAD EVER trophy novelty socks and you will be the favorite child forever. They feature a gold trophy sporting the words "Best Dad Ever" and gold stars along the bottom. The perfect gift idea for the Dad, Grandad, new Dad, Step-Dad, Dog-Dad, Cat-Dad in your life — for Christmas, a birthday or even just because! Fits men's shoe size 7-12. Content: 65% cotton, 15% nylon, 15% polyester, 5% spandex.