Buttered Toast (Teal) Women's Crew Socks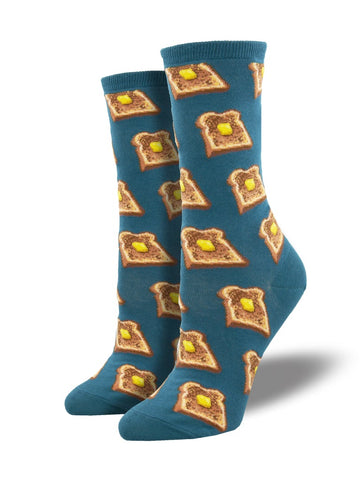 When it comes to comfort food, we all have our favorites. Here's and enthusiastic endorsement of...Toast! Ah, bread. The most glorious staple, found in every culture, made in every country, loved by most anyone who has even a single taste bud. Make the most of the simple things in life! take a break every morning to enjoy some Buttered (mmm,butter) Toast by sipping a cup of coffee or tea. Talk about your plans for the day think about things that can make you appreciate life. Teal background, perfectly toasted slices of bread with a nice pat of butter waiting to be spread to the edges.Content: 36% Cotton, 62% Nylon, 2% Spandex. 
Fits approximate women's shoe sizes 5–10, 

men's approximate shoe size 3-8.