Cat Loaf (Blue) Women's Crew Socks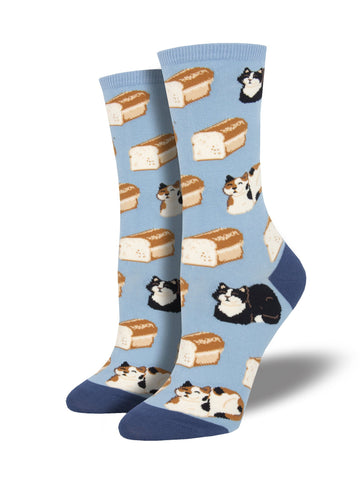 Noun. cat loaf (plural cat loaves) (slang) The loaf-like form of a domestic cat sitting with paws and tail tucked underneath the body.
Is that a sleeping cat, or a loaf of bread? Well the answer is both with this fun pair of Cat Loaf Socks in blue! Loaf around the house in these cute Cat Loaf socks and your feet will be so content, they'll be purring! It can often be hard to decide which is better - a cute kitty, or the smell of freshly baked bread. Luckily for you - these socks have both so that you don't need to decide! Bonus: The funny socks make us think of a sweet kitty we know named Toaster!

Fits approximate women's shoe size 5-10.5, men's approximate shoe size 3-8. Content: 63% Cotton, 34% Nylon, 3% Spandex.