Checkmate, Chess (Burgundy) Men's Bamboo Crew Socks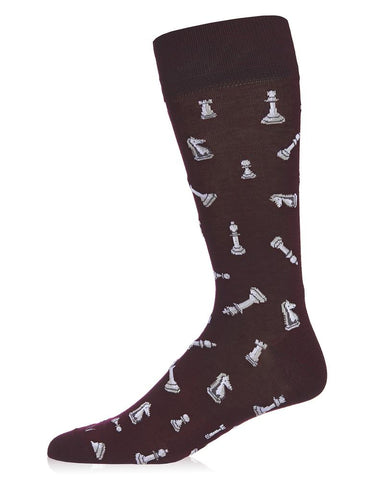 Check mate! Get moving in these Chess themed novelty socks. These burgundy bamboo socks feature scattered white chess pieces. Wear these fun socks for your next big match. Always a winning move, they might just bring you luck. We know you're not on your feet much while you're playing chess, but these socks are comfortable on the go and at rest. These Chess themed socks are super cozy, made from the finest rayon-from-bamboo yarns that offer day-through-night comfort while being sustainable to produce, giving you the added benefit of peace of mind.
Why do we love Bamboo socks so much? Here are a few reasons why! They're temperature regulating , they're hypoallergenic, they help wick moisture away from your skin, they're Anti-bacterial-for all those reasons and more they're good for your skin. This bamboo blend is soft against your skin, and more gentle on the planet than other options. Did we mention how silky and soft they are? 

 70% Rayon from Bamboo, 22% Polyester, 5% Spandex. Fits approximate men's shoe sizes 7–12.5. Fits approximate women's shoe size 10.5-14.