Crystals (Iron) Women's Knee Highs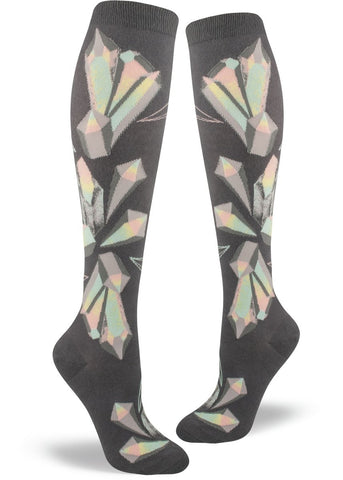 You're already dazzling on the inside so why not be dazzling on the outside!?!  These iron grey knee-high crystal socks show the colorful crystalline minerals from the toes all the way up. The alluring stones are thought to each have powerful associations: Everything from emotional and physical healing, promoting love and friendship, supporting intuition and mental order and clarity to providing protection in warding off negative energy. Whether these socks help you draw inspiration in setting intentions and encouraging magic moments or you just like the way they look, you can keep a little crystal magic with you whenever you have these socks on your feet! These knee highs are extra stretchy. They look great and feel comfortable on calves up to 18 inches.
Fits approximate women's shoe sizes 5–10, men's 4-8. Content: 65% cotton, 24% nylon, 8% polyester, 3% spandex.