Fan The Flames, Lucky Dragon (Green) Bamboo Men's Crew Socks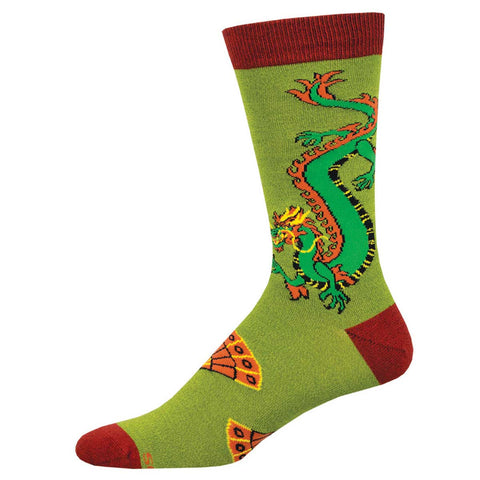 Dragons hold a special significance in Chinese tradition. They are mythical creatures known to bring good luck and fortune. In Feng Shui, dragon statues are placed in houses, shops and offices to attract success, abundance and prosperity. Wear these Lucky Dragon socks to usher in good luck and harmony everywhere you go. Vibrant green background, Dark green, gold, black and fiery red/orange Dragon dances while large fans adorn to foot area. Deep crimson red accent at toe, heel and cuff. Stunning! Bamboo socks are soft, luxurious, breathable, anti-bacterial and anti-fungal. These bamboo socks feature a seamless toe for ultimate comfort. This means this style has a minimal, "barely there" seam designed to not irritate the toes. 
Content: 68% rayon from bamboo, 30% nylon, 2% spandex. Fits approximate men's shoe sizes 7–12.5, Fits approximate women's shoe size 9-14.