Feed The Pigeons (Seafoam) Women's Bamboo Crew Socks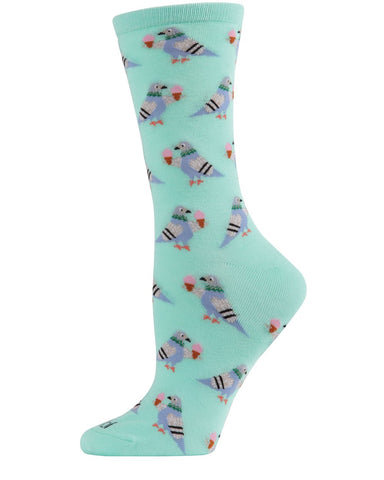 Help a feathered friend out, would 'ya? Go ahead, just accidentally drop your ice cream. Don't worry, it wont go to waste and you've made a new pal. Feed the Pigeons Bamboo Blend Crew Socks are super cozy and made from the finest rayon-from-bamboo yarns that offer day-through-night comfort while being sustainable to produce, giving you the added benefit of peace of mind. Happy pigeons enjoy a tasty ice cream cone in an all over pattern against a seafoam background.  Why do we love Bamboo socks so much? Here are a few reasons why!  They're temperature regulating , they're hypoallergenic, they help wick moisture away from your skin,  they're Anti-bacterial- for all those reasons and more they're good for your skin. Did we mention how silky and soft they are? 
 75% Rayon from Bamboo, 23% Polyester, 2% Spandex. Fits approximate women's shoe sizes 4–10.5.  Fits approximate men's shoe size 3-7.5.