Gonna Need A Bigger Boat, Jaws Men's Crew Sock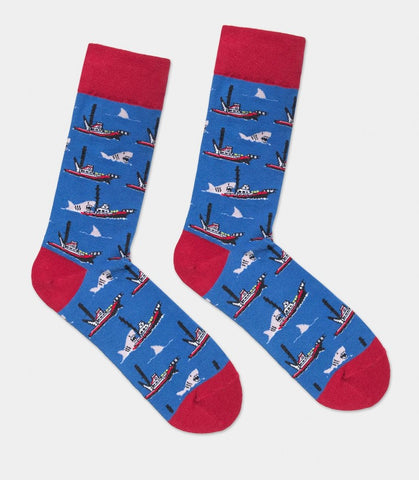 "You're gonna need a bigger boat. "
   -Roy Scheider as Chief Martin Brody, Jaws (1975)
Daah dunn daaahh dunn daah duuunn dun dun dun dun dunnn duunnnnn. On June 20, 1975, Steven Spielberg's Jaws swam into theaters and scared moviegoers out of the water. Actor Roy Scheider famously ad-libbed this now iconic line after his character's first up-close confrontation with the eponymous shark, which is also the audience's first good look at the human-eating antagonist following an hour of suspense-building. Scheider's timing and delivery instantly made movie history. 
Laugh in the face of danger as you slide into your Jaws-themed socks, your version of the Orca, the shark-hunting boat captained by grizzled and salty seaman Sam Quint (Robert Shaw) and elude one dead-eyed killing machine after another or ya know, just tackle the day to day!  Blue background, red accent at toe, heel and cuff, repeated pattern of lobster boat or Nova Scotia-style fishing vessel, shark fins and Jaws in the water and attacking the boat! Fits men's shoe size 8-12, women's shoe size 7.5-14 Content: 75% cotton, 20% polyester, 5% spandex.