Gregarious Mushroom Troop (Black) Men's Bamboo Crew Socks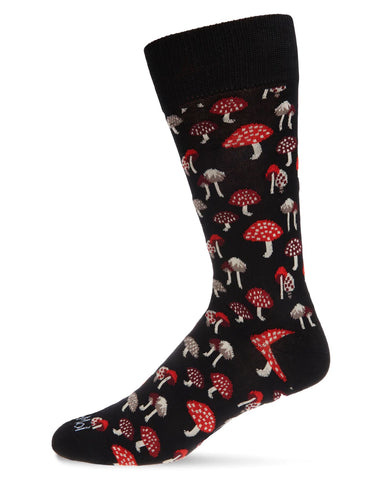 These Gregarious Mushroom Troop Bamboo Blend Crew Socks are perfect for fungi's and fun-guys alike! These unique socks feature a pattern of wild mushrooms popping up all over the place on a luxuriously soft rayon-from-bamboo blend that offers up day-through-night comfort for the fungus among us. Colorful speckled fungi in tones of red cropping up against a black back ground. Perfect for work, around the house or foraging in the woods. Even if you're on your feet all day, these socks are comfortable. Not too thick or too thin, these mushroom socks are super cozy, made from the finest rayon-from-bamboo yarns that offer day-through-night comfort while being sustainable to produce, giving you the added benefit of peace of mind.
Why do we love Bamboo socks so much? Here are a few reasons why! They're temperature regulating , they're hypoallergenic, they help wick moisture away from your skin, they're Anti-bacterial-for all those reasons and more they're good for your skin. This bamboo blend is soft against your skin, and more gentle on the planet than other options. Did we mention how silky and soft they are? 

 70% Rayon from Bamboo, 22% Polyester, 5% Spandex.
Fits approximate men's shoe sizes 7–12.5.
Fits approximate women's shoe size 10.5-14.