Gregarious Mushroom Troop (Rosin) Women's Bamboo Crew Socks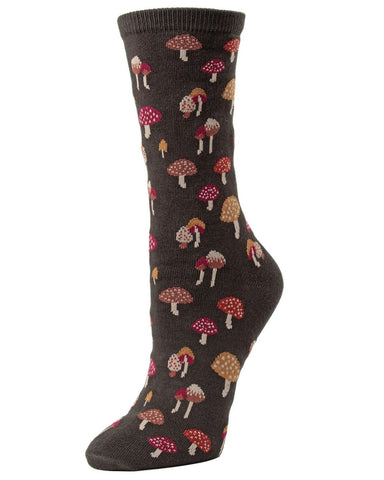 These Gregarious Mushroom Troop Bamboo Blend Crew Socks are perfect for fungi's and fun-gals alike! These unique socks feature a pattern of wild mushrooms for a touch of natural whimsy, popping up all over the place on a luxuriously soft rayon-from-bamboo blend that offers up day-through-night comfort for the fungus among us. Colorful speckled fungi in tones of red, burnt umber and mustard cropping up against a rich earth-toned back ground. Why do we love Bamboo socks so much? Here are a few reasons why!  They're temperature regulating , they're hypoallergenic, they help wick moisture away from your skin,  they're Anti-bacterial- for all those reasons and more they're good for your skin. Did we mention how silky and soft they are? 
 75% Rayon from Bamboo, 23% Polyester, 2% Spandex. Fits approximate women's shoe sizes 4–10.5.  Fits approximate men's shoe size 3-7.5.