Happy Chrismukkah (Black) Women's Crew Socks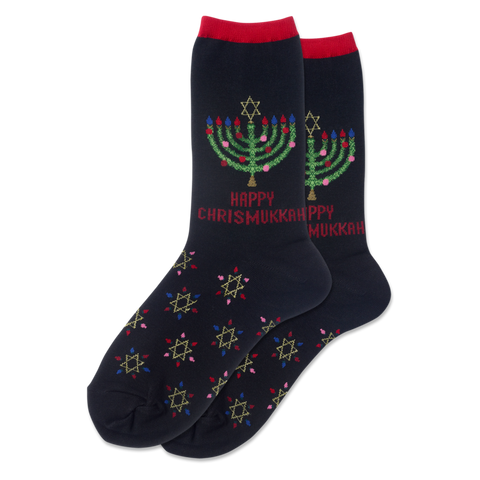 "You can't ruin Chrismukkah. It's got twice the resistance of any normal holiday."
Christmas meets Hanukkah for many mixed-faith families, who may deck their trees with Menorahs and Star of David tree Toppers and spin the dreidel under mistletoe. Here's to the joys...and oys...of celebrating Chrismukkah, the hybrid holiday. Christmas Cookies and Kugels? Mexican chocolate and Latkes? Yes, please! Your yuletide happy hours will never be the same once you enjoy a little Manishewitz Mulled Wine! So deck the halls with boughs of holly and a menorah, and have a very happy Chrismukkah! Contents: 57% cotton, 23% nylon, 18% polyester, 2% spandex. Fits approximate women's shoe sizes 4–10.5.