Join the Tea Set Women's Crew Socks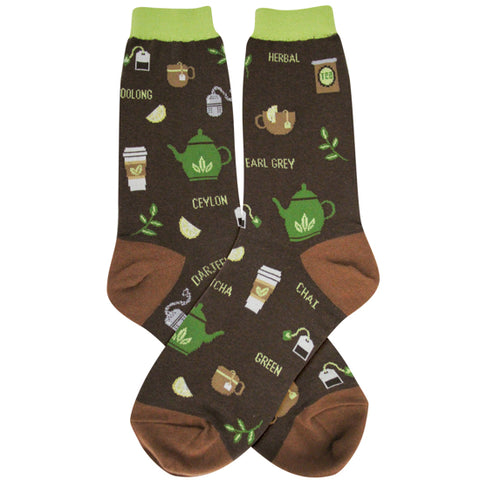 Hot Stuff, coming through! Coffee is all the rage, all the time. But where my tea drinkers at? Tea-drinkers out there, have you ever found another tea-drinker, realized they too don't like coffee and shared a knowing look? This is what happens with tea drinkers. We understand each other, we feel a bond, and we are rare gems in a coffee drinking world. Seriously, have you ever tried organic genmaicha? Or peppermint, lemon, masala chai or English breakfast? Herbal, earl grey, oolong, green, black...the list goes on! Teapots, teacups, to go cups, tea bags, tea leaves, and lemon slices are featured on the brown and green crew socks. Chances are, there's a dream tea just waiting for you.
Fits women's shoe size 4-10. Content: 65% cotton, 15% nylon, 15% polyester, 5% spandex.