Poppies (Lake/Teal) Women's Roll-Top Knee Highs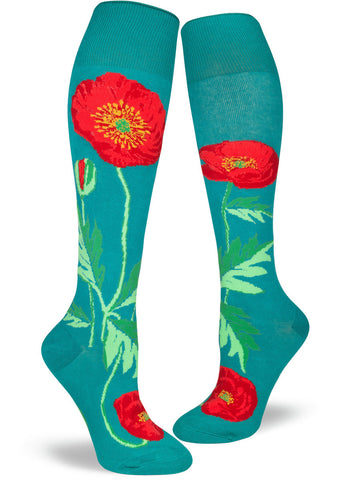 These lovely knee high socks have a big, bold, red poppy running up the side of them. The poppy flower has been celebrated for its bright and colorful beauty and for its medicinal uses throughout history. Step out in bold style with these striking Poppy knee highs. Poppies enjoy plenty of ornamental use as a result of their deep, blood-red colors, but their medicinal qualities actually come from its seeds, first prescribed in Ancient Egypt as a pain reliever. Extra stretchy fit, up to 16" at calves, 18" at cuff-comfortable roll-top keeps these knee highs up without binding. 
Fits women's shoe sizes 6 to 10, men's 4-10.  65% cotton, 24% nylon, 8% polyester, 3% spandex.