Red Cardinal (Black) Women's Bamboo Crew Socks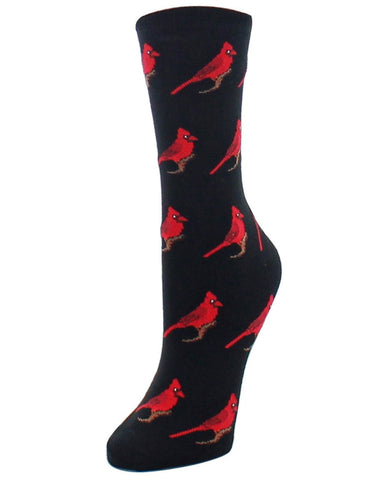 Make your feet sing in a pair of these Red Cardinal Bamboo Crew Socks. Known to bring good luck to anyone who crosses its path, you'll be fashionably fortunate when you wear these super soft and comfortable crew socks.  Adorned with adorable pattern of vibrant Red Cardinals perched all over against a black back ground. This bamboo blend is soft against your skin, and more gentle on the planet than other options. Why do we love Bamboo socks so much? Here are a few reasons why!  They're temperature regulating , they're hypoallergenic, they help wick moisture away from your skin,  they're Anti-bacterial- for all those reasons and more they're good for your skin. Did we mention how silky and soft they are? 
 75% Rayon from Bamboo, 23% Polyester, 2% Spandex. Fits approximate women's shoe sizes 4–10.5.  Fits approximate men's shoe size 3-7.5.