Star Wars, The Mandalorian, The Child (Grogu), Baby Yoda READ Men's Crew Socks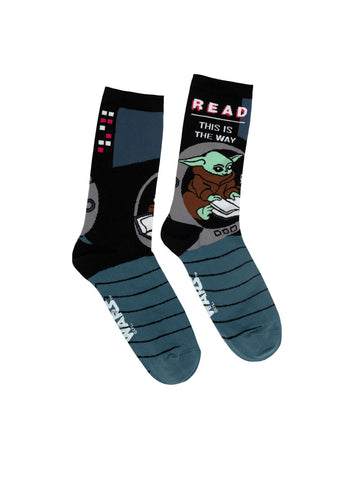 You don't have to search the territories of the Outer Rim to find the coolest "The Child" themed socks... we have them right here! READ - THIS IS THE WAY … STAR WARS – Grogu™ READ socks comes from the 2020 READ® poster by the American Library Association. Featuring The Mandalorian breakout character The Child, The Kid also known as Baby Yoda and Grogu. Reminiscent of the original Yoda poster ALA Graphics offered in the early 1980s, this image continues the tradition of previous Star Wars™ READ® collaborations. Feel like you've been transported to the grittier regions of Tatooine, the ice planet Maldo Kreis, the fishing villages of Sorgan or wherever your imagination and books take you every time you sit down with a good book and your Grogu/ Baby Yoda/ The Child socks. Curl up with your favorite soup and bounty hunter's sidekick and add some interstellar charm to your sock collection with the help of these officially licensed Star Wars The Mandalorian The Child socks. 
Small in size but powerful and oh-so cute, Grogu, is a force sensitive former student in the Jedi order. These socks feature Grogu reading perhaps oboard the Razorcrest, and the words, "READ, This Is The Way"
Use the the light side of the Force, every purchase of these Baby Yoda socks helps to fund literacy programs and book donations to communities in need. Content: 75% cotton, 20% polyester, 5% spandex. Fits approximate men's shoe sizes 7–13, Women's approximate shoe size 8.5-14.