Stargazer/ NASA Men's Crew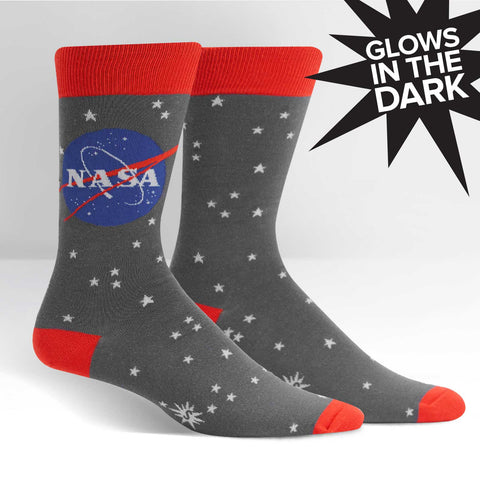 Before we go any further...these socks glow in the dark! That's right, hold them up to the light or charge them up with good ol' sunlight before turning the lights off and watch the stars (on your feet) glow.
If you've ever gazed into the night sky wondering what's out there, these are the socks for you. Thanks to the scientists and astronauts of NASA, we've begun to explore. But no matter what we discover or how far we go, we will always want to go further. That's just human nature. We'll always be staring into the sky.  Stargazers Crew Socks, grey with glow in the dark stars, red accent at toe, heel and cuff, featuring the iconic NASA logo! 
The fibers in these socks are certified by OEKO-TEX® Standard 100, which means no harmful chemicals, keeping your skin safe and happy.
63% cotton, 34% polyester, 3% spandex. 
Fits approximately men's shoe size 7-13 and women's shoe size 8.5-14.5.