Stompy Stego Stegosaurus Kids' Crew Socks (Age 2-4)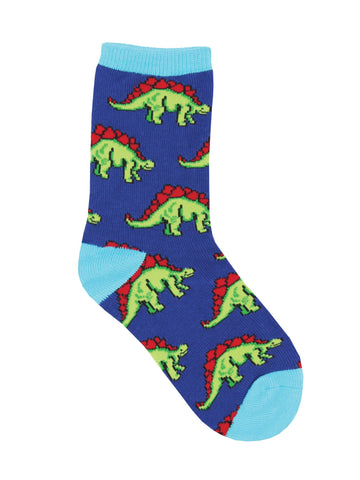 Boom! Boom! Stomp! Stomp! In terms of size, the Stegosaurus was large and mightily built. On average, a fully grown Stegosaurus was around 30 feet in length, 14 feet in height and up to nearly 5 metric tons in weight! So, that stomping sound you hear around your house...could be a stompy Stego or, more likely it's your kiddo running down the hall, up the stairs, hopping off a bed and on to their next jurassic adventure! Let them stomp or saunter in style in these cool Stegosaurus socks! Blue background, green stegos with red spine plates. And if any kiddos need a little nudge or motivation to eat their broccoli or brussels sprouts, remind them that the mighty Stegos were herbivores! 
Seamless toe for extra comfort!
Fits children ages 2-4 years, shoe size 6-11. 
 Content: 53% cotton, 45% nylon, 2% spandex.