Take A look, It's In A Book Unisex Stretch-It Knee Highs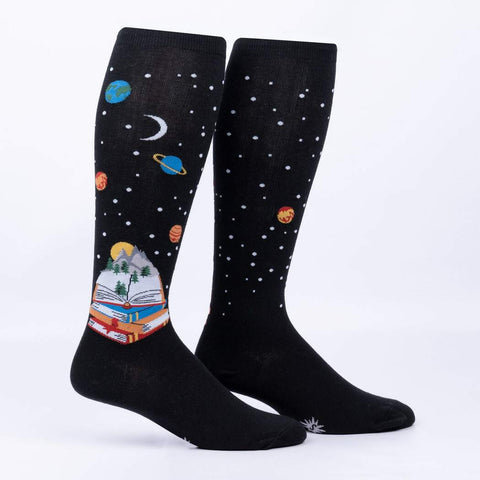 Imagine you're journeying to fantasy lands of mystery and take these socks on an adventure every time you open a book!  There is nothing like hunkering down with a good book and discovering a whole new world in there to explore. These fun socks encourage your literary expeditions with a stack of books opening to reveal trees, mountains, stars and planets. These bookish socks are a fun and practical gift for any occasion.
The fibers in these socks are certified by OEKO-TEX® Standard 100, which means no harmful chemicals, keeping your skin safe and happy. These knee highs are super stretchy, up to 21 inches in circumference without distorting the graphics. Their supreme stretchability makes them a great fit for anyone looking for a knee-high sock style that can accommodate larger calves and bigger feet.These knee high won't fall down, no matter your leg size. Fits women's shoe size 5 to 14.5 and men's shoe size up to 13. Content: 60% cotton, 37% polyester, 3% spandex.