Tee Off, Golf (Green) Bamboo Men's Crew Socks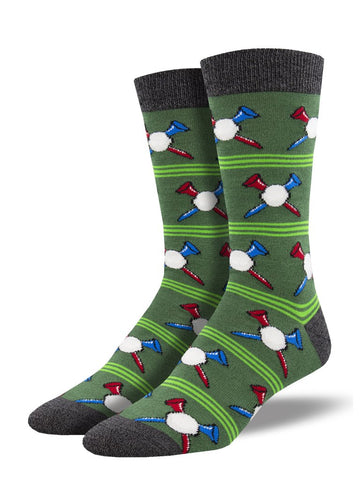 Shoot for the green and get that hole in one every time with this great pair of Golf Socks. Golf is definitely a sport where having the right tools is so important, and for you or the avid golfer in your life, this pair of socks is a necessity. Don't show up to the links without your lucky pair of Tee Off Socks! Bamboo socks are breathable, anti-bacterial and anti-fungal so your feet stay comfortable and healthy. Bamboo rayon is soft, luxurious, breathable and antimicrobial and they are certified organic by OCIA and tested by OEK-TEX to be free of harmful chemicals.
 Content: 62% rayon from bamboo, 36% nylon, 2% spandex. Fits approximate men's shoe sizes 7–12.5, fits women's approximate shoe size 9-14.