Guinea Pigs (Turquoise) Women's Crew Socks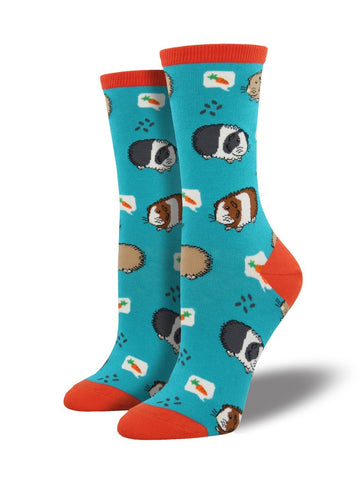 Check out these adorable little fuzz balls! Did you know that Guinea pigs are herd animals and super social, so it's thought that having at least two furry companions to share an enclosure and your home with should boost their quality of life. It's actually illegal in Switzerland to own only one Guinea Pig. Luckily, there's a healthy herd of Guinea Pigs cavorting on these cool animal socks. They appear to be having a spirited conversation about a topic near and dear to them...carrots! Those carrots in their little speech bubbles look like they would make a mighty fine snack. Featuring these unique rodents with a sweet almost oinking squeak, these socks will call to mind your favorite little pets. Turquoise background, orange accent at toe, heel and cuff, a variety of little fuzzy Guinea pigs chatting about tasty carrots. Content: 63% Cotton, 34% Nylon, 3% Spandex. 
Fits approximate women's shoe sizes 5–10,  fits men's approximate shoe size 3-8.